Welcome
The Computational Archaeology Laboratory at San Diego State University is a state of the art facility for FOSS GIS, agent-based modeling, imagery analysis, and other computational approaches in archaeology. A main focus of research is on the origins and long-term dynamics of coupled human and natural systems in the Mediterranean and beyond.



Lab Information
Location: Hardy Tower 62/66.
The lab is located on the ground floor of the Hardy Tower building. Students should enter through HT 62 door in the stairwell (look for "Computational Archaeology Laboratory" signs).

Supervised Lab Hours: Tuesdays and Thursdays, 2-3pm (Fall 2018).
These are the "open lab" hours during which I will regularly be in the lab and available to answer questions. The lab may be open at other times.
Lab Resources
6 high-power Ubuntu Linux computer workstations with a full complement of FOSS computational analysis tools including GRASS GIS, QGIS, Image-J, R, Scientific Python, Python Photogrammetry Toolbox, Open Drone Map, Meshlab, Cloud Compare, NetLogo, RePast, PyABM, and more. These workstations are available to my graduate students and students in my courses to complete assignments and conduct research.
A Puget Systems "Peak" HPC workstation. This workstation contains 44 multithreaded cores for parallel and high-performance computing.
A flexible photogrammetry workstation to accommodate photogrammetric analysis of artifacts and landscapes, including 3D point-cloud generation via MVS.
DJI Mavic Pro aerial drone. The drone includes an integrated RGB camera, and can be fitted with an additional near MapIR NDVI camera or a FLIR Thermal camera.
Sediment Granulometry workstation. This includes a full set of nesting geologic sieves, a mechanical sieve shaker, and a precision balance.
Sediment Chemical analysis workstation (PH, N, P, K)
Low-power USB microscopes for conducting microrefuse analysis or other such tasks.
Mobile tablet computers for field data collection using Open Data Kit.
Bad-Elf GNSS surveyor high precision bluetooth GPS units.
Wacom tablets for data entry and digitization.
Supplies for a variety of artifact and sediment analyses and measurements
More equipment will be added over time.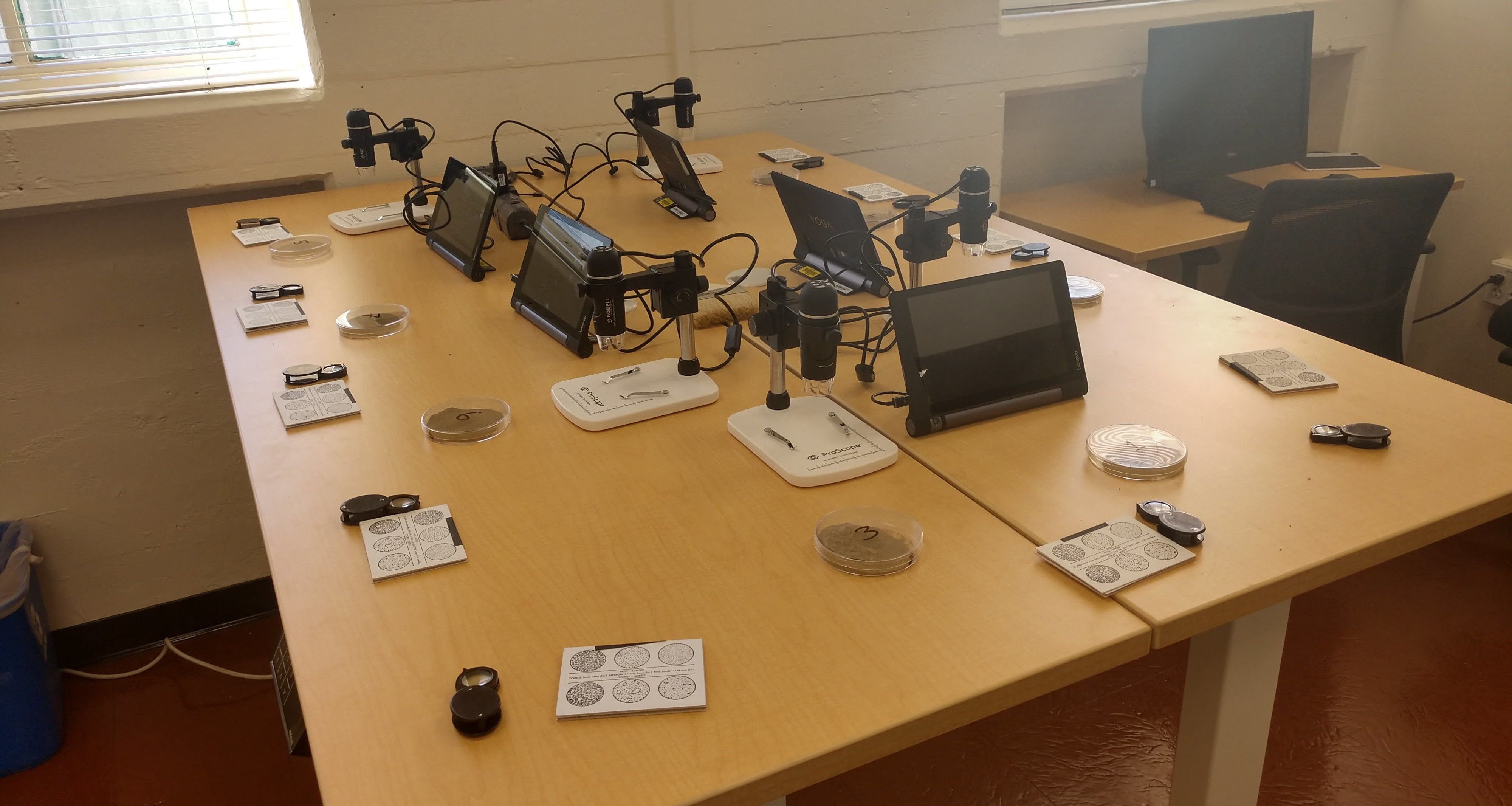 Research
Research topics.
The Computational Archaeology Lab lab conducts research into the following topics:
Coupled human-natural systems research
Agent-Based Modeling
GIS and Imagery Analysis
Anthropogenic Landscapes
Early domestication of plants and animals
The dynamics of early agro-pastoral subsistence systems
Collaborations.
The Computational Archaeology Lab conducts research in collaboration with the following projects. Please visit these links for more information on each specific project.
Funding and support.
Funding and support for the research being conducted in the Computational Archaeology Lab comes from various sources including:
The National Science Foundation
The National Endowment for the Humanities
The Social Science Research Council, Canada
The SDSU University Grants Program
The SDSU Center for Climate and Sustainability Studies.
Students
The Computational Archaeology Lab provides computing and other resources for undergraduate and graduate student research in the fields of Computational Archaeology and Geoarchaeology. There are ongoing opportunities for undergraduate student research volunteers and internships (for credit). There may be a limited number of paid hourly positions as well. Please email me if you are interested.

I am currently seeking prospective Master's students interested in the fields of Computational Archaeology and Geoarchaeology. I am particularly interested in students with some background in GIS or other computational approaches and/or the geosciences. I will have ongoing research opportunities for students interested in working in the Mediterranean region or in Central Eurasia, with potential fieldwork in Italy or Kazakhstan. Interested prospective Master's students should email me to discuss this further. You are also advised to visit the main Anthropology MA program page for more information about our graduate studies program.
Recent Events
Students in ANTH 583 "Anthropogenic Landscapes" are undertaking sediment analysis of samples from the Nate Harrison cabin site. Their analyses, including sediment granulometery, soil chemistry, and micro-refuse analysis, will be used in the final report for the site.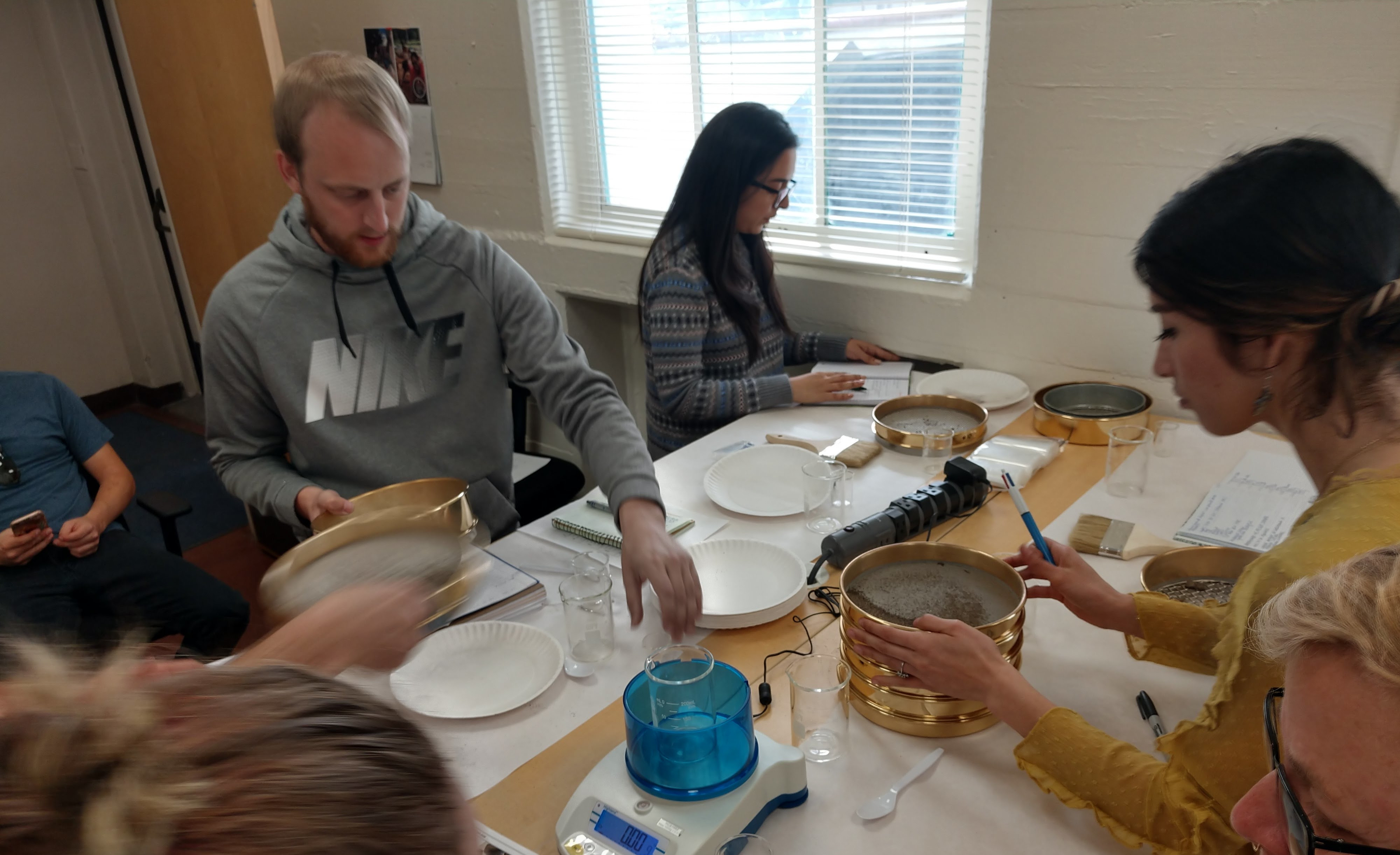 In 2017, the Computational Archaeology Lab hosted the first SDSU Experimental Archaeology Workshop. More information about the workshop can be found in this post. The SDSU Daily Aztec published a nice article about the workshop as well.